What are GS1 Barcode Standards?
GS1 Barcode Standards regulate the barcode application and quality for retail, transportation, healthcare and other industries.
Created by industry for industry, GS1 Barcode Standards cover the application of barcode formatting, print quality and location on the outer and inner packaging.
Globally recognised standards
Created and maintained by GS1 with industry partners
Ensures the right barcode is used for the right application
Provides minimum requirements for print quality, size and location
Continually evolving to meet changing business needs
Benefits
Ensure your barcodes will scan first time, every time
Get guidance for adjusting your marking and coding processes
GS1 testing facilities assure retailers that your codes meet requirements
Streamlines the supply chain process and provides end-to-end visibility
Save costs – no need to withdraw and repackage products
Can be used by businesses of all sizes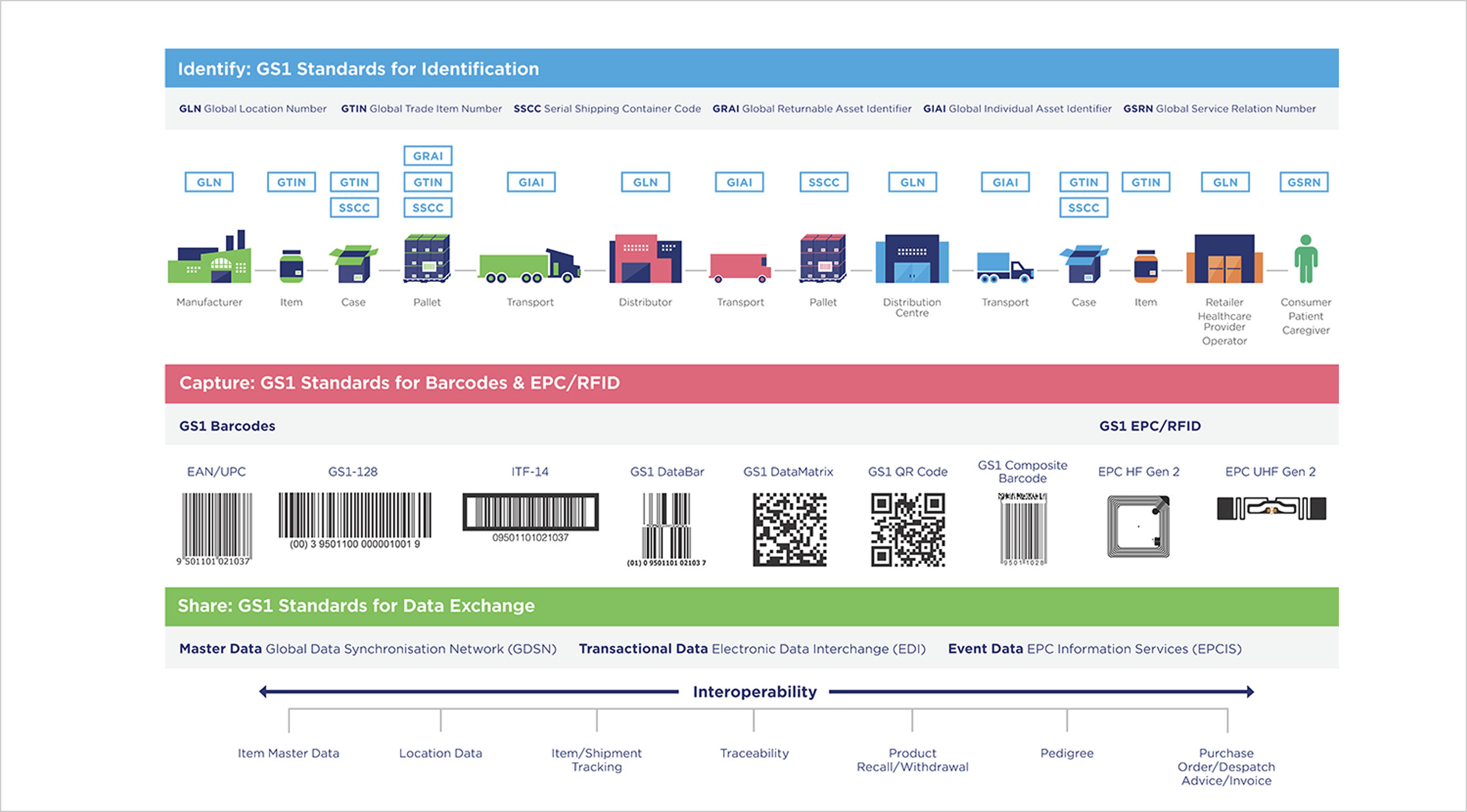 Breaking it down - GS1 Barcode Standards
Barcode type
Various barcodes are designed to fit the needs of different applications. In Australia, the types of barcode include EAN/UPC, GS1-128, GS1 DataBar, ITF-14, GS1 DataMatrix, GS1 QR Code and now GS1 Digital Link.
The EAN-13 barcode is the commonly used barcode for products sold at retail POS, while logistic applications typically use GS1-128 within an SSCC label.
Barcode size
All GS1 barcodes have a minimum and maximum size requirement based on the barcode type and scanning environment (POS, distribution centre, etc).
Barcode Proportions
All GS1 barcodes have height and proportion requirements to avoid scanning problems. In the case of some barcodes, such as EAN-13, the width must be proportionate to a percentage of the magnification. Avoid reducing the barcode height (truncation) from the standards, as it may not scan.
Quiet zones
The quiet zone is the clear area before the first bar and after the last bar on a barcode. It tells the scanner where the beginning and end of the barcode is. There should be no data or graphics in the quiet zone. The minimum size depends on the barcode size.
Human readable interpretation
Include human readable interpretation (HRI), aka the letters and numbers that can be read by people. This is important in case the barcode does not scan. Location depends on the barcode type.
Barcode colours
Use dark bars on a solid, light background for scannability. Best practice is to use black bars on a white background.
Barcode location
Locate barcodes in clear and consistent positions on your product packaging, avoiding obstacles that could obscure or damage the barcode. Standards vary depending on whether the product is being scanned at POS or general distribution.
Barcode quality
The barcode must be crisp and well-defined when printed, without ink smudges and blurs. A formal quality scale (produced by GS1) exists to provide a quantified measure of quality. GS1 Australia has testing centres which provide Barcode Verification Reports as a service.
GS1 Barcode Standards Checklist
Barcode meets the minimum and maximum size requirements
Barcode meets the minimum height requirements
Quiet zone is included and the right size – allow more than the minimum required size wherever possible.
HRI included in the right location
Barcode is printed in high-contrast colours e.g. black on white
Barcode is located in clear position, away from obstacles
Barcode is in the correct orientation for the packaging shape
Complete the barcode verification and validation checks as required by retailers
Frequently Asked Questions
Who manages the Barcode Standards in Australia?
GS1 Australia is the local branch of GS1, the not-for-profit standards organisation that develops and maintains global standards for business. GS1 Australia is the only organisation authorised to register and issue barcode numbers in Australia.
Are retailer standards and GS1 standards the same?
Not necessarily. Retailers like Coles and Woolworths require suppliers to meet GS1 Standards as a minimum, but often expect suppliers to provide solutions beyond these standards in order to meet the specific needs of their DCs and retail stores.
Why should I use GS1 standards?
Simple – by using the barcode standards, you can keep costs down, reduce complexity in your supply chain, improve relationships with trading partners, and enhance the consumer experience with your brand. Importantly utilising barcode standards can minimise reject rates when supplying to Australia's major retailers.
How do I know my products comply with barcode standards?
The best way is to work with one of GS1 Australia's Strategic Alliance partners, such as Matthews Australasia. We have the knowledge and experience to ensure you tap into the full advantages of barcodes and GS1 standards. Next, you need a GS1 Barcode Verification Report. In fact, if you're planning to sell your products through Coles, Metcash and Woolworths, in many cases you'll be required to have a GS1 Verification Report to provide assurance that your products will scan acceptably in the distribution centre and at the checkout.