2D data embedded codes are simply barcodes that are embedded with data.
They differ from traditional linear barcodes due to the design – 2D codes are square "checkerboards"– and the amount of information they hold – 2D codes hold significantly more than linear barcodes
Data fields that can be included are;
Producer name
Batch information and number
Net weight
Use by date
Grower ID
GTIN number
Price to be paid
Types of 2D codes
QR Codes
QR codes are two-dimensional computer-generated images. Today they are used by brands to communicate with consumers, for example, in competitions and promotions. The consumer simply aims their smart device at the QR code, and the relevant application deciphers the code and takes action e.g. connecting to a webpage

Datamatrix
Codes that are compact two-dimensional barcode symbols, made up of square modules. They are read by 2D imaging scanners or vision systems. Datamatrix is popular for marking small items such as fresh produce.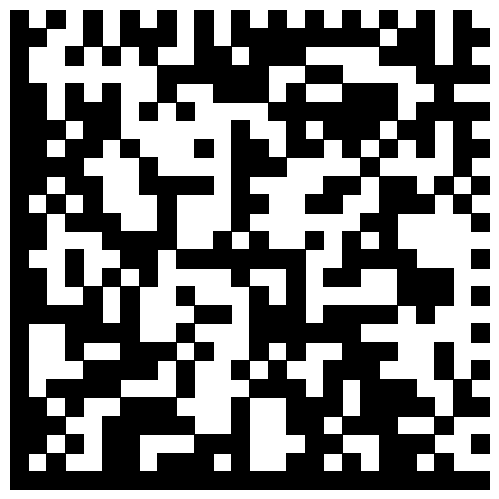 Benefits of 2D Codes
Enhanced product identification
Embed all data into one compact symbol
Globally unique product ID – this replaces the national solution for variable measure items
Traceability
Faster and more accurate recalls
Product authentication
Safer supply chain
Less food wastage – easy to identify when products are going to be out of stock
Traceability Benefits for Consumers and Businesses
Because QR or Datamatrix codes are a unique code, with individual product specific information it improves traceability and food safety for customers and businesses/retailers.
Reasons data embedded codes improve traceability include;
Recalls can be done faster, more accurately and in a more cost-effective manner.
Alerts consumers to important product information, such as expiration and best before dates. This puts consumer safety at the forefront as it reduces the likelihood that consumers are taking home and consuming food past its use by date.
Able to efficiently scan product barcodes on shelves - saving employee time and money.
Improves waste management as businesses can know exactly when each product is about to reach its expiry date.
Better inventory visibility and management of fresh produce (by shelf life, automatic markdowns at POS).
Stop the sale of expired/recalled products.
What's next?
As of August 2019, Woolworths is launching a trial where 2D codes are being implemented for variable measure items - meat. Pending the success of this trial it is possible that the use of 2D barcodes will quickly expand to other product lines (and supermarkets).
Woolworths has launched this in partnership with GS1 Australia, after successful trials have taken place in Thailand, Germany and Belgium with the aim of reducing food waste and improving food traceability, safety and stock management.
Areas We Service
We're proud to supply premium 2D and QR barcode Australia wide. Our innovative products and solutions are available across Melbourne, Canberra, Sydney, Brisbane, Darwin, Perth, Adelaide, Hobart and everywhere in between. Get in touch with our team today to see how your business can benefit.