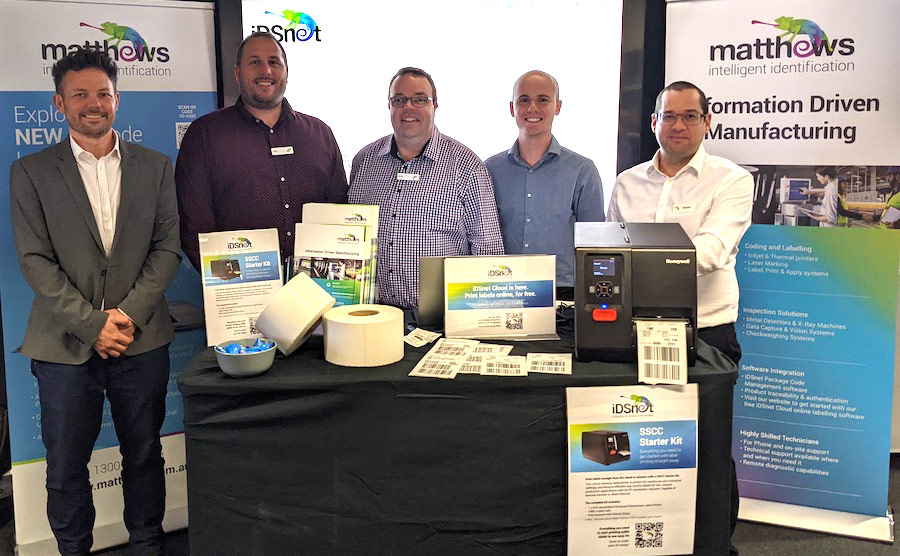 L-R: Matthews' Marketing Manager Alex Kelly; WOW's Sean Leicester (WOW's Supplier Capability Lead), Bradley Carton (Woolworths Supplier Specialist) and Martin Anderson (Big W Supplier Specialist); with Matthews' Braydon Cocks.
In August, Matthews was part of two "BIG W Supplier All In" days.
The first session was in Melbourne, with the second in Sydney a few days later.
With two sessions over both days, we presented our new cross-dock labelling capabilities in iDSnet Cloud to BIG W suppliers working in warehousing, transport, replenishment and throughout the supply chain.
Our team fielded some really interesting questions from attendees, with our Product Specialist Braydon Cocks in his element explaining to suppliers, in lay terms, exactly how they can use iDSnet Cloud to now produce cross-dock labels that significantly reduce manual input and help get products on shelf by meeting retailer needs.
Braydon said: "Matthews is really excited to add this cross-dock labelling functionality in iDSnet Cloud to the current portfolio of fresh produce SSCC labels."
With a lot of exciting changes at BIG W this year – and a lot more planned for the future – the idea behind the days was to update suppliers on all the developments. Matthews presented alongside Primary Connect Transport, GS1 Australia, Loscam, Visy Packaging and Healthy Heads in Trucks & Sheds.
You can find more information about iDSNet Cloud's cross-dock capabilities here:
https://www.matthews.com.au/idsnet-cloud