iDSnet is a next generation software solution with the power to transform your business. By integrating all of your coding, labelling and other end of line packaging equipment, such as vision systems, checkweighers and scanners, iDSnet delivers a more streamlined operation with quick changeovers, validation and error detection.
Matthews' data capture solutions can be fully integrated into your environment, giving you complete visibility and control of end-of-line packaging and inspection that is missing with existing SCADA and MES systems. Our award-winning iDSnet software collects detailed data from your production line so you can see, interpret and communicate what's really happening on the factory floor. With a complete view of production efficiency, downtime and quality metrics, you have actionable data to feed into your continuous improvement programs.
How does iDSnet work?
With industry standard open connectivity, iDSnet allows you to integrate your coding, labelling and validation into your existing SCADA system to have truly centralised control.
By centralising the product database, iDSnet ensures the correct code, such as a barcode, datecode or batchcode, is always placed on the correct product at the correct time and that the correct packaging or artwork is in use. Because all coding, labelling and other devices are networked back to a central database, product changes are achieved down an entire production line with only one simple operator action. It's completely seamless.
Benefits for your business
Improve efficiency with quick changeovers and uptime with better equipment monitoring
Simpler integration with existing systems and equipment with industry standard connectivity
Eliminate rework due to code errors with central changeovers and message selection, checking packaging integrity and data validation
Quicker and easier changeovers, simple interface and reduced chances of errors
Reduce rework and recalls, improve your bottom line
More visibility, real-time data access and OEE reporting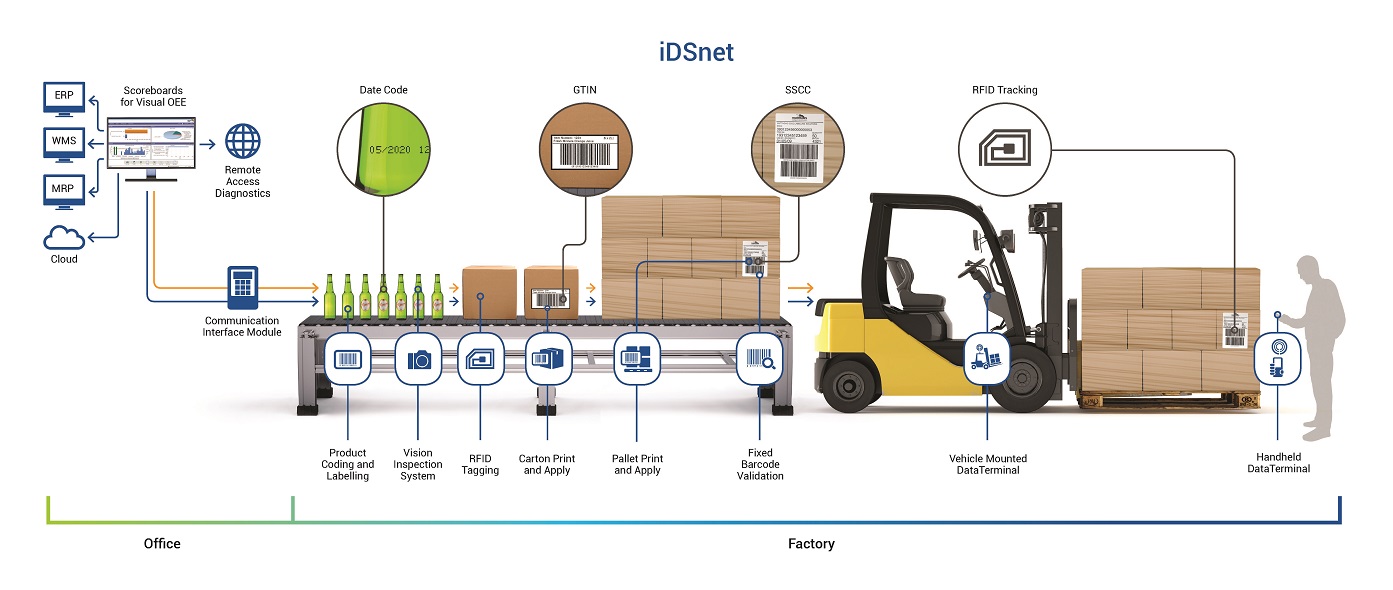 Scalable and fully supported
iDSnet is fully scalable to meet your changing needs. Start with line integration for quick changeovers, data validation and error detection. Then integrate with other systems when your business grows, and enjoy full overall equipment effectiveness reporting when ready.
With iDSnet, you get the peace of mind that comes from our 24x7 support, with an in-house local software team for rapid response.
iDSnet at a glance
Simple: Easy integration and simple to operate
Secure: Provides brand security by code assurance, providing fast synchronised changeovers
Seamless integration: Features standard industry connectivity and integrates with and complements your existing SCADA & MES systems
Scalable: Fully scalable to meet your growing needs
24/7 supported: Matthews provides around the clock support by in-house software specialists
Areas We Service
We're proud to supply premium package coding software Australia wide. Our innovative products and solutions are available across Melbourne, Canberra, Sydney, Brisbane, Darwin, Perth, Adelaide, Hobart and everywhere in between. Get in touch with our team today to see how your business can benefit.