Here are 7 considerations before you export:
1. Will your products pass inspection?
Between 2006 and 2019, officials reported rejecting an average of 2600 food shipments per year from all countries.
So, which foods are being targeted by Chinese customs inspectors and for what reasons? Thanks to research by the USDA's Economic Research Service (ERS), which compiled and analysed nearly 38,000 rejections from more than 100 countries over 15 years, we know that in 2020, China refused entry to 99 US food shipments — down from 136 per year in 2018–19. Rejected products included meat, seafood, beer, drink mixes, canned noodles, infant food, raisins, prunes, almonds, honey, confectionary, and nutritional supplements.
Why were they rejected?
Inspectors check for a range of things, including:
Product labelling
Packaging
Check your products are the same as stated
Information related to the product itself, e.g. product names, brand numbers/models, where the products have been produced
For the rejected products, various problems were cited by CIQ, including a lack of documentation, degradation of products, mildew, high bacterial counts, excessive moisture, mis-labelling, and presence of foreign material. Importantly, these products were not just from small companies, but also from prominent US food manufacturers.
Processed foods and beverages account for most rejections, with refusals being highest for consumer-ready items such as baked goods, pastries, snack foods, health supplements, drink mixes, confectionary, bottled water, wine and other beverages.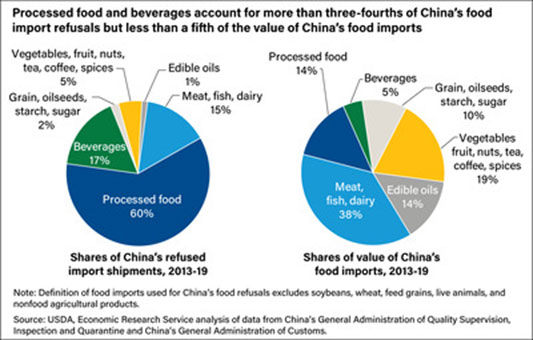 2. Can you create unique, compliant Chinese product labels?
You cannot sell goods in China without adhering to their labelling regulations. One of the most common issues among exporters is that they don't follow the labelling standards required.
The challenge is that the requirements on food products are exhaustive and the regulations can change very quickly. Labelling can be a significant barrier to market entry, so always take advice on the latest requirements.
First and foremost, goods for sale in China must be labelled in Chinese (a simplified script for mainland China).
According to the Food Labeling Standards of China (GB7718-2011), imported foods must have clear markings that indicate the country of origin, in addition to the name and address of the general distributor registered in the country.
Labelling requirements when exporting food to China:
Import Food Labelling Verification application form
The English label explained in Chinese
The name and trademark (brand) of the product
Ingredients listed in %
Weight and content
Production date, storage instructions and expiry / best before date
Contact information to the manufacturer and distributor
Batch number
Country of origin
Do you have the labelling equipment and technology to create compliant labels? Talk to our team.
3. Do you meet Australian export requirements?
Before you can even get your goods out of the country, you need to meet Australian export regulations for your industry.
Let's say you want to export yoghurt products to China. The Department of Agriculture, Water and the Environment is responsible for the export registration and ensuring ongoing compliance of dairy export establishments, exporters and permit issuers with the Export Control Act 2020 and associated legislation, as well as the importing countries' requirements.
To help, DAWE maintains the Manual of Importing Country Requirements (Micor) as a resource for exporters of Australian agricultural products. Micor provides guidance on importing country requirements for meat, dairy, plants, fish, live animals, eggs, and other goods, such as honey and processed foods. The best part is Micor is updated as soon the department becomes aware that an importing country has changed its requirements. That said, it's still only a guideand you should always check with your importing partner.
4. Are you ready to implement traceability?
Traceability is becoming increasingly important in China, with government regulations demanding traceability of food products all the way through to the consumer.
By offering comprehensive traceability, you can gain an edge in the market and meet emerging regulations, like Campbells Wines in Victoria. The winemaker approached worked with Matthews to implement coding technology that would assist them in traceability when supplying wine to around 16 different export markets.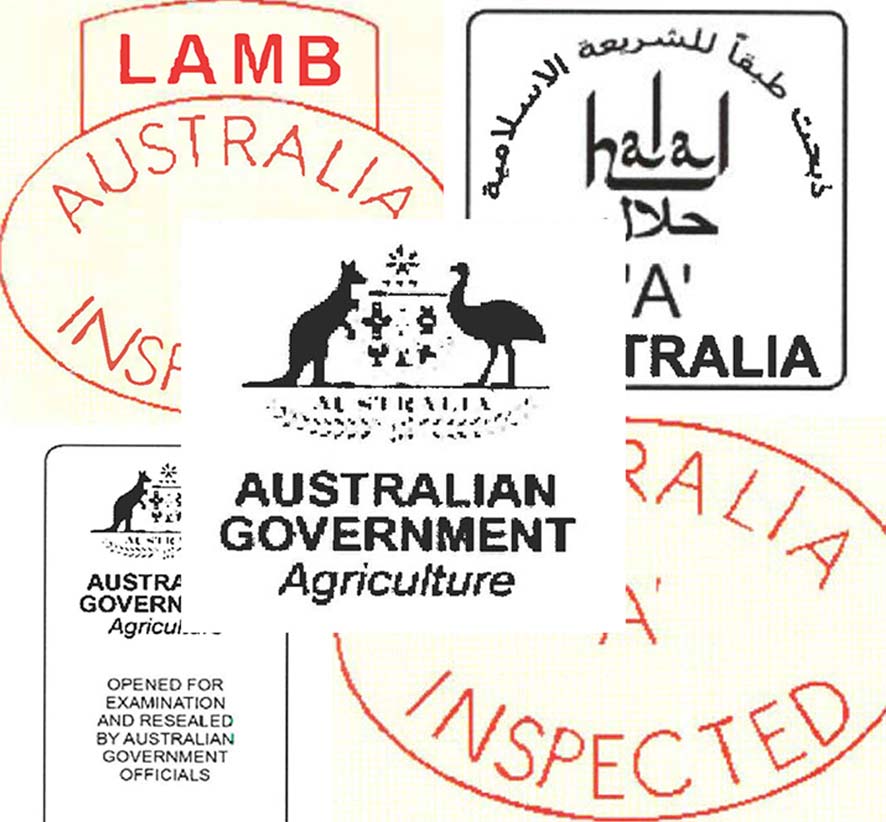 5. Are your food products in the cold chain?
It's fair to say that the Covid pandemic has upturned trade the world over and China is no exception. In March 2021, the country implemented mandatory traceability requirements for all food products transported via the cold chain, including frozen dairy products, frozen veg, and frozen drinks, to prevent Covid from entering the country via imported foods.
All imported cold chain food products now need to follow traceability requirements under the Beijing Cold Chain Food Traceability Platform. This means Australian producers entering the market via Beijing must register products and provide documentation, in addition to uploading traceability data, such as batch number, product codes, country of origin, port of entry and more, into the platform.
Unique QR codes are then provided for individual food products and displayed in retail outlets for consumers to scan on their phone and find out more.
6. Do you meet China's National Food Safety Standards? (You'll need to prove it)
Since 1 May 2012, dairy importers to China have been required to provide test results that prove that products comply with China's food safety standards (GB standards). Requirements for testing are outlined in China's Administrative Measures in Inspection, Quarantine and Supervision of Imports and Exports of Dairy Products.
Test results are required against all criteria in the national food safety standards for each dairy product consignment the first time that the product is imported, with other requirements for subsequent imports.
7. Is your brand protected against counterfeiters?
Counterfeiting is a big problem in China, and a massive risk for Australian manufacturers. If you don't have a strategy in place, you should get serious about protecting your brand before you export. The most effective solution is to combine a number of identification and inspection technologies on the production line, so that each product has a unique code, which a consumer can then scan to verify the product's authenticity. Talk to our team about the solutions we have created to help Australian manufacturers protect their product integrity.
Pro Tips Before You Start
1. Do your research
Speak to the experts and visit potential export markets for yourself – this might be near impossible right now, but it will help you to understand the local customs, consumers and the environment in which you'll be trading.
Use the resources available to you. For example, Austrade, the Australian Government's trade, investment, education and promotion agency, provides in-depth advice and support on how to enter overseas markets.
2. Work with the experts
Look at working with people who know the local market, such as local advisers and suppliers, so you have in-market support from day one. Be sure to also tap into the expertise of your technology and equipment suppliers, such as Matthews Australasia. We can help you identify the right technology for your needs now, and in the future.
3. Get to know AQSIQ
AQSIQ is one of the authorities you will deal the most with. If your products are on the 'List of Food Imports Subject to Enterprise Registration', you need to register your company with AQSIQ. Additional requirements typically apply to food products on the list, especially dairy, health, and meat. You will also need to register your shipments with AQSIQ online for tracking.
Over to you
China presents a huge market opportunity for Australian food and drink manufacturers, and exporting your product is an exciting prospect. But you need to know what you're going into. Do your research and due diligence, and you can ensure your business is ready to take full advantage of all the benefits and opportunities.