Popular Solutions for Printing on Cartons
There are numerous technologies to achieve product identification solutions on to outer cases / cartons and range from printing, laser and labelling formats. The below infographic shows the options available in terms of the differences in resolution, print size and speed variables.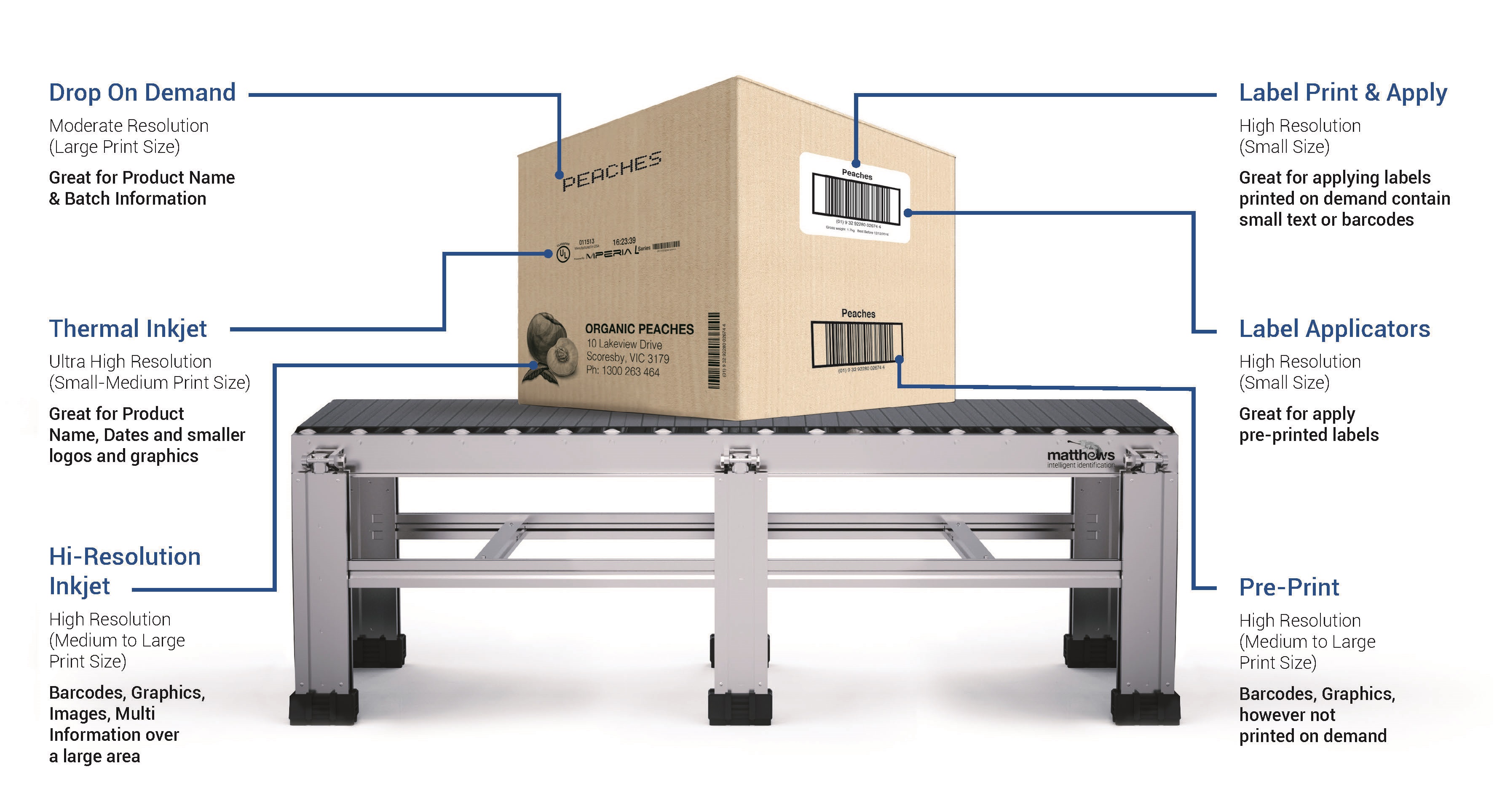 Inkjet Technology
Print high quality, human-readable information directly onto cartons with thermal inkjet printer. Ideal for high-resolution printing onto cardboard, a thermal inkjet printer is ideal when you need crisp barcodes, graphics and text, even at high line speeds. Learn more
Create exceptionally high-resolution printing on paperboard, cardboard and corrugated boxes with an Impulse Inkjet Printer. These high resolution inkjet printers are economical and efficient, even on high speed production lines. When you need to print product information, Matthews Mperia T-Series can be programmed to print alphanumeric text, barcodes and graphics on either one or two sides. Learn more
Print product name and batch information directly onto cartons with a Drop on Demand (DOD) printer. Ideal for printing larger product information onto cardboard, a DOD printer is extremely simple to operate, low cost, reliable and low maintenance. Learn more
Labelling Technology
Print and apply the correct barcodes and product information onto your cartons with a Label Printer Applicators (LPA). Great for high-speed lines, LPAs can automatically apply carton labels at speeds up to 70 labels per minute, depending on the application. Get the flexibility to label your cartons on multiple sides with ease. Learn more
No more manual label application. Save valuable time, resources and costs with a Label Applicator (LA). Also known as in-line applicators, LAs are automated labelling systems that apply pre-printed pressure-sensitive labels onto a wide range of substrates. Learn more
Laser Technology
Ensure high-quality printing on cartons with laser marking. Laser is a fast and cost-effective way to mark permanent codes onto cardboard and paperboard without cost and hassle of consumables and maintenance. Learn more
Compliant carton coding
With increasing interest in full generic case coding solutions, its important to ensure the replacing pre-printed cartons with inline printing meets the requirements of end users. For example, printing barcodes on cartons (using inkjet technology) is not accepted by many major retailers. However, many organisations have implemented large character, high resolution, brand on demand technologies onto carton with barcodes QR, Datamatrix etc. to facilitated improved supply chain internal traceability or for export markets.