Since it's introduction to the UK and Europe back in 2005, shelf-ready packaging (SRP) - which is also commonly known as 'retail-ready packaging' or RRP – has been steadily on the rise. More than 15 years on and Australian retailers have realised that SRP can provide their businesses with many benefits (from improved on-shelf availability and improved stock rotation to faster shelf replenishment and reduced waste).

A good example of this is supermarket giant, Coles – they first introduced SRP to their stores back in 2009. Since then, their sales density has increased by 27% with customer numbers close to doubling (from 9 million a year to an impressive 16 million).

It's not only retailers who can reap the benefits, however. When done well, SRP can actually protect your products as they pass through the supply chain, ensuring that they look their best once placed on the shelf. If it came down to a beautifully presented product and one with a torn, tattered box, we know which one we'd choose.

In order to help suppliers, retailers (like Aldi, Coles and Woolworths) have created guidelines on how SRP should be done, which is known as the "five easies".

Coles has taken this a step further by devising a comprehensive guide on putting the five easies into action and creating SRP that works for everyone. These guidelines have been designed for us with the Trading Partner Forum's 'Retail Ready Packaging Toolkit' (see the end of this blog for more information).

We'll take a closer look at the tips that any retailer can apply to SRP below, however, it's important to note that the guide also outlines changes to Coles' standards for SRP (for example, carton depths have been changed from 1.5 cases to 2 cases per shelf in order to provide better on-shelf display and improve in-store efficiencies). For these more retailer-specific requirements, please refer to the full document (again, see the end of the blog).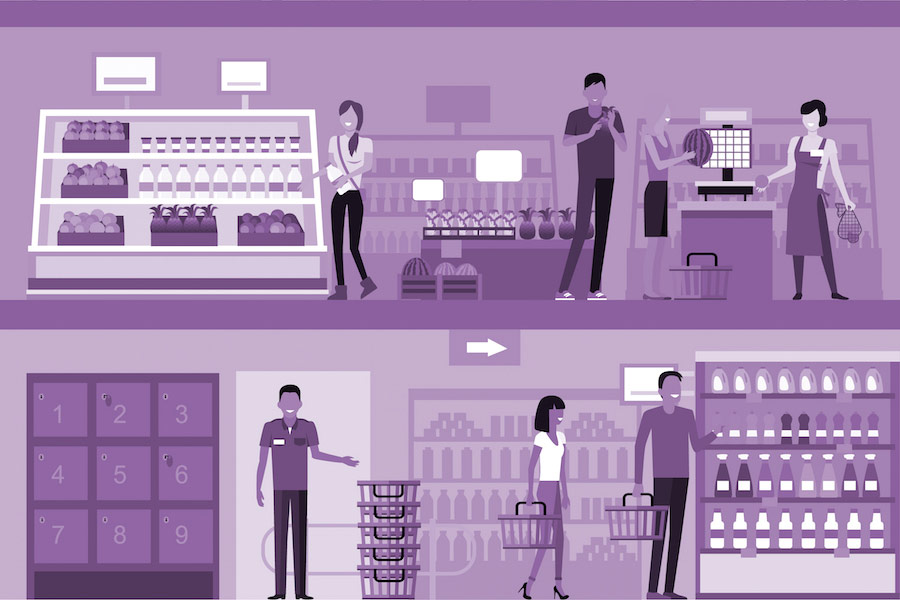 5 things that your shelf-ready packaging must do:
Be easily identifiable

Packaging should be designed so that products are easily recognised throughout the supply chain. Meaning that appropriate GS1 specifications should be used, and they should be visibly printed on at least 2 sides of the carton. Cartons should also be sturdy enough that they don't fall apart or become crushed as they journey through the supply chain.

Be easily opened

Ultimately, SRP is all about speed and ease – the easier the packaging is to open, the faster it's on the shelf and visible to consumers. Packaging with trays and hoods are the easiest formats to open in store. Opening points should be locatable quickly, the front and side panels should have finger holes, and there should be easy-to-follow instructions.

Any perforations should tear easily without the need for a carton cutter (except for the initial tray and shrink wrapping) and without causing damage to the front panel. Don't cover the perforation with tape or put strapping around the box – the simpler, the better.

Be easily replenished

The perfect SRP units can be transferred to the store shelf in one simple step. In order to achieve this, the packaging needs to be stable and the number of facings needs to be suitable for the rate of sale. Coles, for example, requires that the trade unit does not exceed 10kg and that the cartons should be stacked 2 deep on the shelf – keep in mind that other retailers may vary.

Making shopping easy

Successful SRPs will make it easy for consumers to choose your product. Ensure that the product description and units of measure are clearly visible on retail packaging. The customer should be able to easily remove and return the product to the shelf, without causing any damage to the packaging.

The usual packaging rules also apply to ensure that your product stands out on the shelf. You should always maximise your visual branding and aim for quality presentation (meaning no raw cardboard edges).

Be easily disposed of and recyclable

It is a requirement of Coles that all shelf-ready packaging meet Australian Packaging Covenant guidelines. They aren't the only ones, so we recommend following these guidelines as standard. The design of your packaging should allow cardboard and plastic to be easily separated for recycling and disposal. The correct recycling logos should be printed on all trade unit packaging where relevant. As always, the product shouldn't have any unnecessary or excessive packaging.
10 important questions when creating Shelf-Ready Packaging (SRP):
Is the design of the carton suitable for SRP? Will it keep the product at the correct temperature and will it support its weight?
Is the grade of the board strong and robust enough? Keep in mind that board with a greater percentage of longer, virgin fibre tends to be stronger than that with a high percentage of shorter, recycled fibre.
Does the location of the perforations ensure that barcodes and other critical information remains intact?
Are there occurrences of perforations breaking open during transit? We recommend conducting tests to see if this is the case.
Will the product be easily identifiable in a distribution centre environment? You need to ensure that the relevant GS1 specifications have been met and that barcodes can be scanned easily.
Is the carton able to withstand the impacts of an automated supply chain? This includes chutes, conveyors, forklift transportation, robotic picking and sortation trays, not to mention ambient, chilled or even frozen conditions.
Are team members able to safely and easily pick the carton up from a pallet?
Is the carton able to be safely stacked on a store pallet with other products and mixed items?
Are the opening instructions easy to follow and clearly located on the top of the carton? Keep it as simple and intuitive as possible. A good way to figure this out is to watch store staff interacting with existing SRP in store.
Does the design of the packaging stand out on the shelf? Ultimately, you want consumers to choose your product – go the extra mile and ensure that your artwork fits the parameters of the packaging.
Working with your customers (the retailers) and ensuring that you understand all of their unique requirements for shelf-ready packaging is the best approach. Whilst there are general standards, keep in mind that every retailer will have unique specifications (for automated warehouse systems, shelf dimensions, etc). Although SRP has been entrenched on our supermarket shelves, there's been a bit of a lag in manufacturer uptake.
And remember – Matthews offers a full range of articles, brochures, case studies and whitepapers to help answer all your technical questions. And they're all free to download!
Notes:
The Trading Partner Forum was previously known as ECRA (or Efficient Consumer Response Australasia). The forum is predominately a 'meeting place' for FMCG suppliers and retailers/wholesalers with a focus on delivering end-to-end value chain efficiency across both the Australian and New Zealand industries.
You can find the complete Coles SRP Supplier Guide here.