Not sure how to implement 2D barcodes in your business? Our top-6 tips will get you started quickly!
LEARN HOW HERE
2D barcode technology is on the rise across Australia. Since supermarket giant Woolworths first trialled 2D barcodes in 2019, the technology has been rolled out by suppliers and manufacturers in a range of industries from meat and fresh produce to food service and even industrial manufacturing.
As GS1 Australia explains, "One scan of these next-generation barcodes can connect business partners up and down the supply chain to data needed for inventory management, traceability programmes, sustainability initiatives, consumer engagement actions and more."
While still an emerging technology with many more benefits yet to be explored, 2D barcodes are being recognised by the industry for their extraordinary potential – GS1 Australia's 2DBarcodes took out the Packaging Design Innovation Award at AUSPACK in 2022.
The question is, should you be planning for 2D barcodes? Are your competitors already moving to another dimension?
Take a look at where 2D barcodes are at in your industry.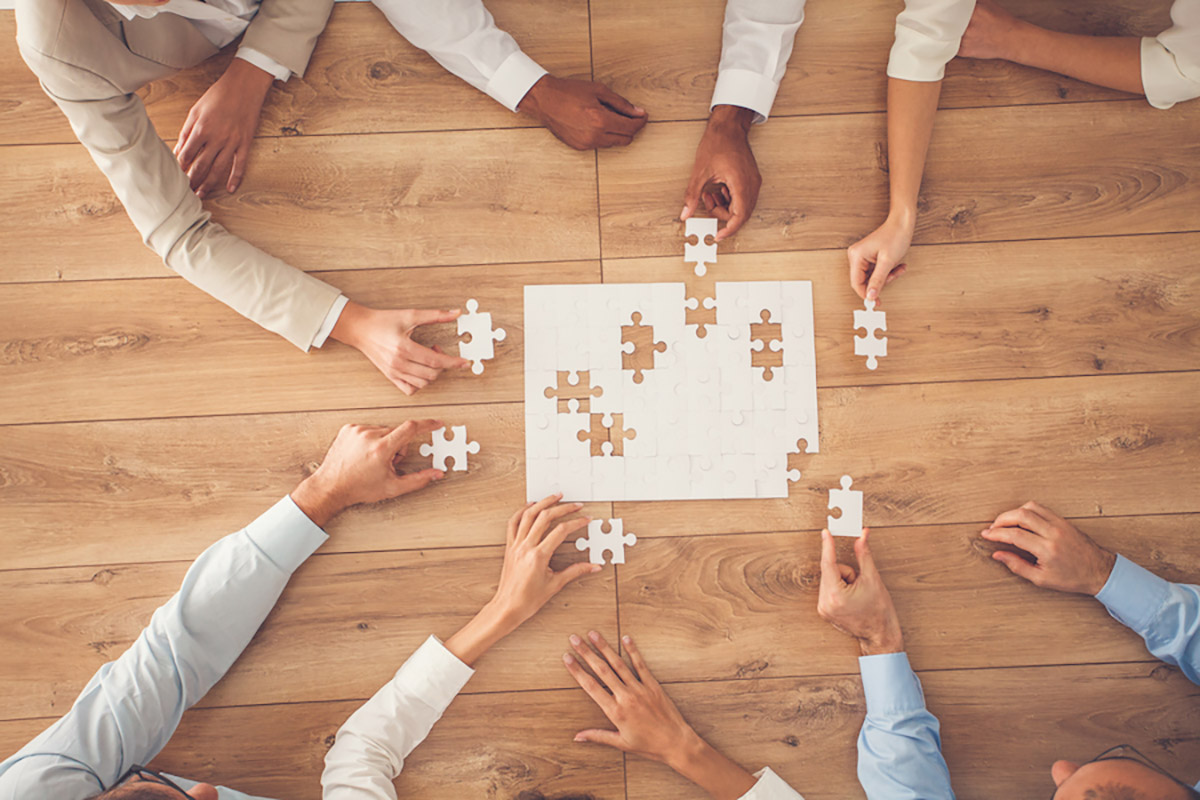 Credit: iStock / fotostorm

Meat, poultry and seafood
This is where it all began for Woolworths. In August 2019, the supermarket began trialling 2D barcodes on fresh meat and poultry products, so it was easy to view each item's batch number, supplier, and use-by date. As of early 2022, 50% of its meat products in more than 1000 stores were using the barcodes, and many key suppliers are using the codes.
In fact, Woolworths recently released a new standard for meat suppliers meaning they now require a 2D DataMatrix code on the packaging.
As a result of its shift to 2D barcodes, Woolworths reports that it has reduced its food waste by up to 40% and staff productivity has gone up by 21%.
Some meat exporters are also choosing to use 2D codes rather than the GS1-128 code (typically printed on an SSCC label) for exported products, as they can fit more data into 2D codes.
Watch more tips on how to implement 2D codes onto your meat products.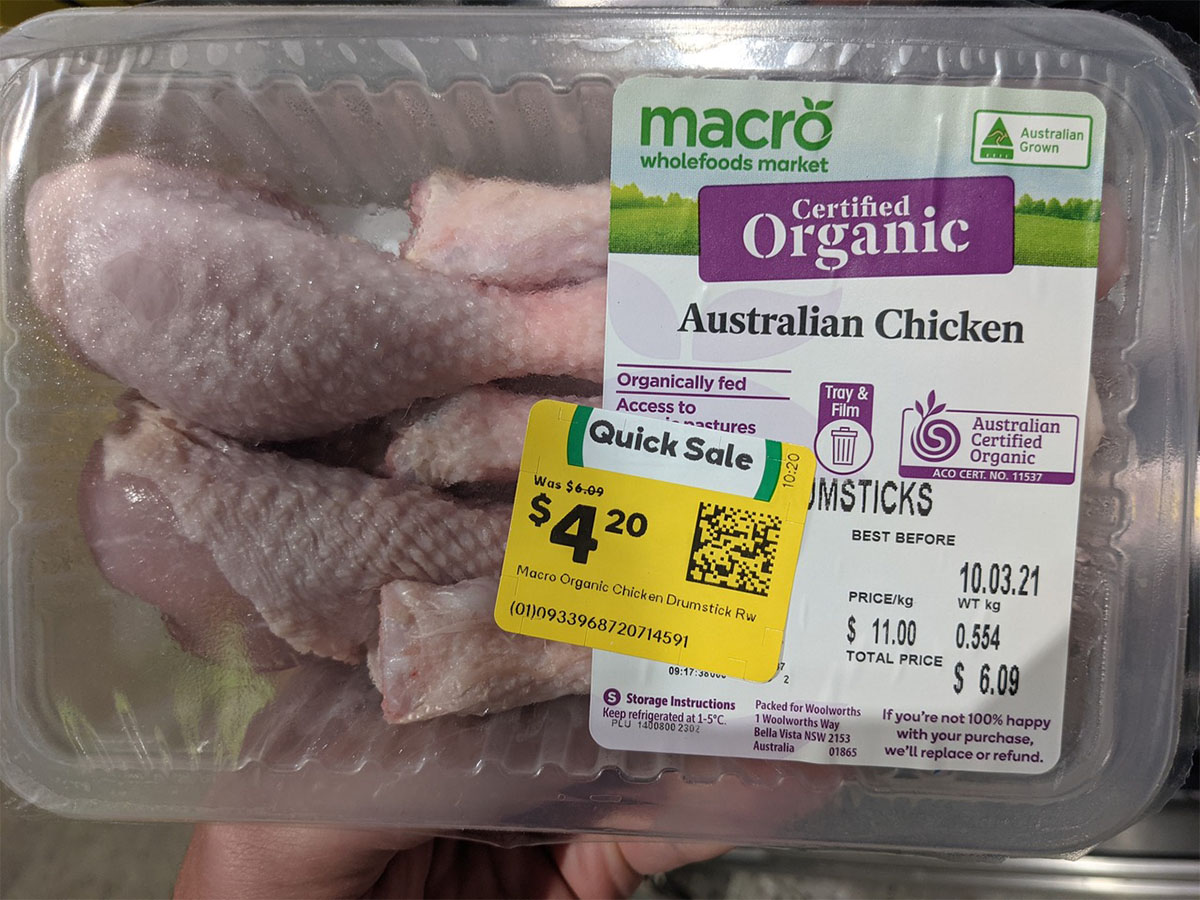 Fresh produce
Fresh produce was one of the first industries to embrace data-embedded barcodes and has become a beacon for successful 2D barcode implementation in Australia.
A broad range of producers are now seeing the advantages that 2D barcodes can offer across the fresh produce supply chain, with 2D barcodes being used on packaging for cherries, loose leaf vegetables, strawberries and specialty produce.
Woolworths is already using GS1 2D DataMatrix codes on the packaging of fresh produce for a quick sale. The quick sale label identifies the product is nearing its best before date and will contain:
reason code – why the product is being discounted
expiry date – ensures the customer doesn't buy expired products at the checkout
discounted price
On discounted products, the normal EAN-13 barcode is usually covered up by the GS1 2D DataMatrix code label to ensure the wrong barcode isn't scanned at the checkout. Watch this video for an example.
Ready meals and food service
Ready meals are perfect for older Australians, or those simply on the go, who want the convenience of having healthy and tasty meals at home. However, this makes them a higher risk product when it comes to product expiry.
Major supermarkets including Coles and Woolworths supply a large range of ready meals under their own private label brands, so it would make sense for them to embrace the benefits of 2D barcode technology into the future.
In addition to the applications and benefits we've already discussed, ready meal suppliers already include 2D barcodes on their packaging, which is scanned at the production facility to ensure the right product goes in the mix.
QR codes are being used to direct customers to recipes and brand stories. While this is not new, more brands are seeing the rewards.
Dairy and eggs
The dairy products industry has been slower to embrace the new technology, except for infant formula. However, there are lots of benefits for suppliers to unlock, such as the ability for consumers to discover brand stories and authenticate proof of provenance via a smartphone.
Woolworths has started to use GS1 2D DataMatrix codes on products that you purchase at the deli, with the label printed by the deli staff. This contains the product SKU, weight, price, time and date.
Some pre-packaged dairy items are using 2D codes for consumer engagement. For example, you might find a QR code for consumers to scan with their smartphone which directs them to the website for the brand story, recipes, and other detailed product information.
Other brands are using 2D codes to ensure the right product goes into the right packaging.
Infant formula
The infant-formula industry was an early adopter in data embedded coding for product authentication and brand trust. In fact, here at Matthews, we've been working closely with the infant-formula industry for several years to assist with supplying next generation coding and labelling technology with embedded 2D barcodes for anti-counterfeit.
You'll notice a blue dot on the base of the infant formula can which allows laser coding of QR codes. Previously, this was used for traceability and consumer engagement for export, but now there's also a growing focus on Australian consumers. The code may direct people to a website or authenticity site to check the product is real and in date, and there are no recalls.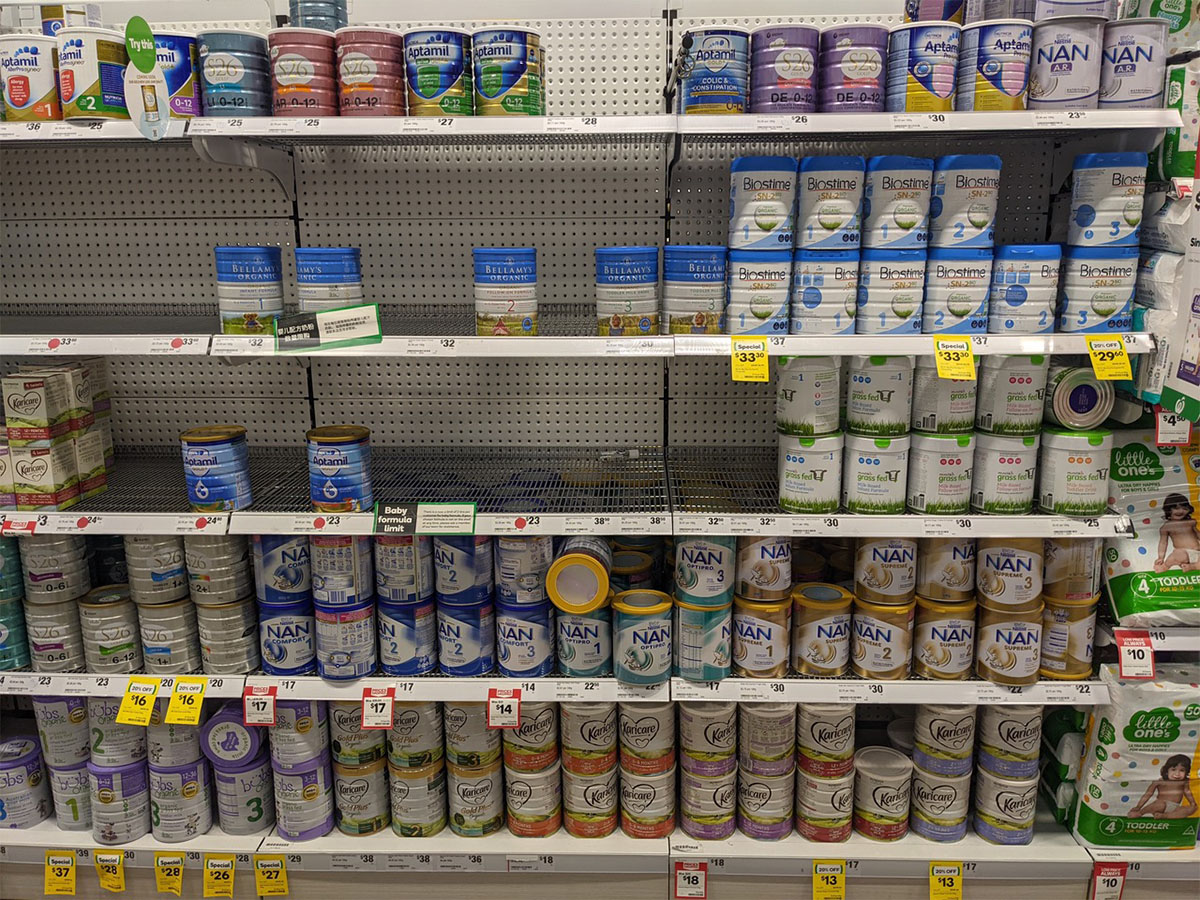 Industrial manufacturing
Electrical componentry manufacturers have been using 2D codes for some time now.
For example, DataMatrix codes can often be found on circuit boards in computers and smart TVs. Manufacturers typically use a laser to mark the code onto the board. Then when they are building the smart TV, they scan each board to ensure that they are using the right part.
As well as the part number, the Application Identifiers making up the 2D code can also capture the batch number and the date of manufacture. All of this means that if there are any issues with a particular batch, the manufacturer can then trace the parts.
Construction material suppliers are also making use of 2D codes. For example, QR codes are used by BlueScope to direct consumers to product data sheets for its roofing products.
2D codes around the world
China is steaming ahead on its ambitious 2D code migration. A recent announcement by GS1 predicts that, by the end of 2023, all products of 80% of all food companies in the Zhejiang Province will have 2D barcodes printed on the packaging.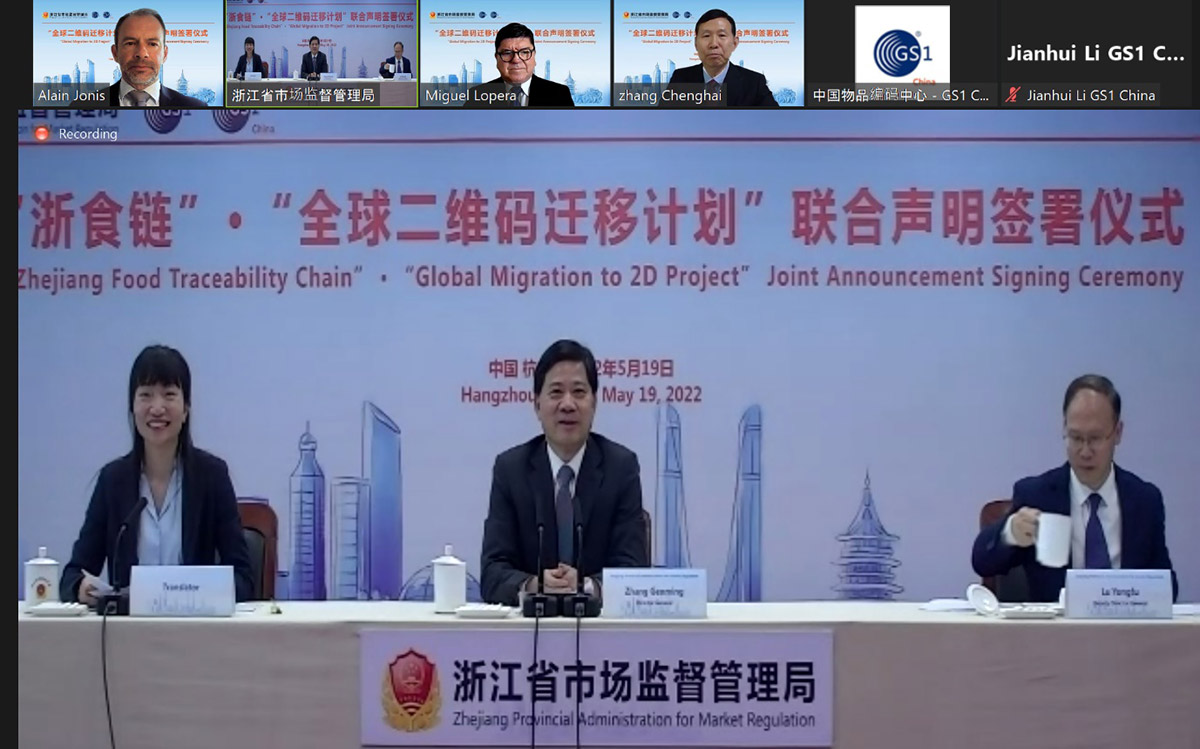 Credit: GS1
Meanwhile in the UK, the Royal Mail is adding 2D barcodes to postage stamps. The codes link each stamp to its digital twin to "facilitate operational facilities, enable the introduction of added security features and pave the way for innovative services for customers," according to the Royal Mail.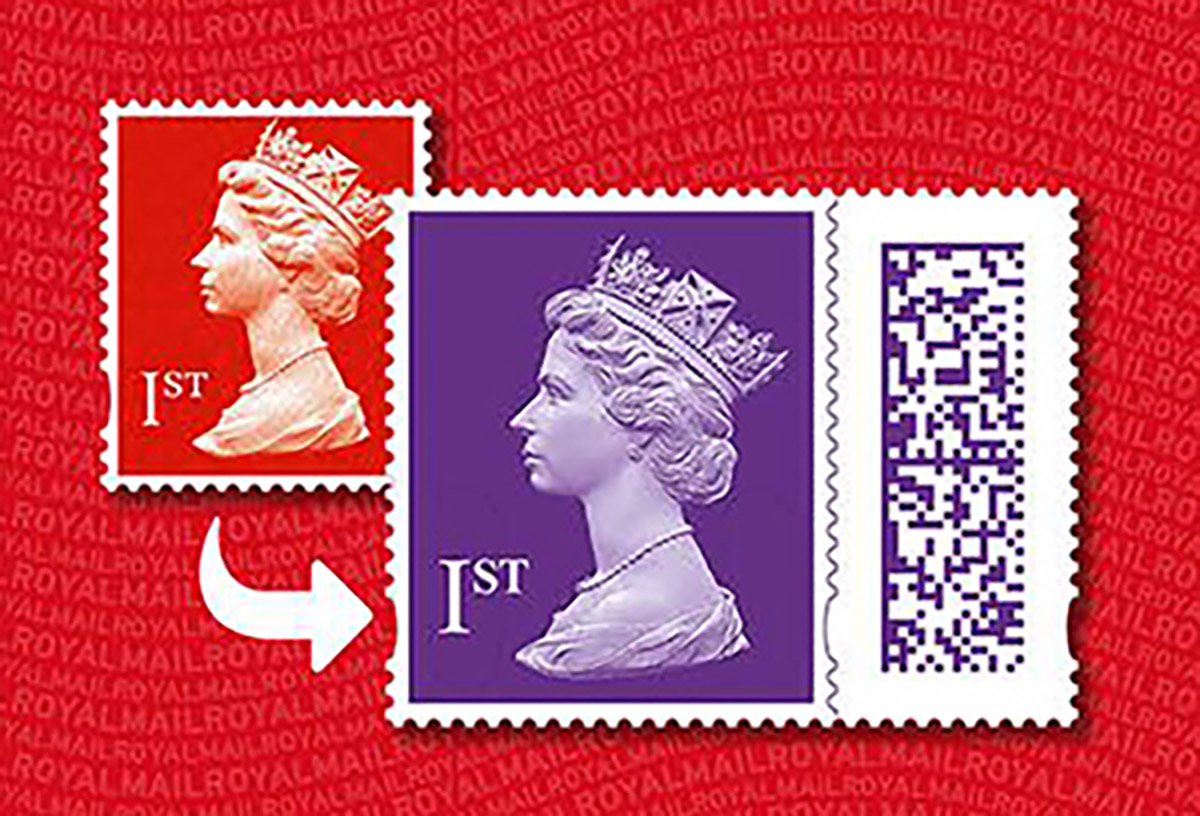 Credit: UK Royal Mail
Are you ready to transition to 2D barcodes?
Check out our 2D Barcode Learning Centre for all the information you need, from the 2D barcode basics to checklists for your application.